Opened January 16, 2010-World Premiere


Ray Bradbury's Wisdom 2116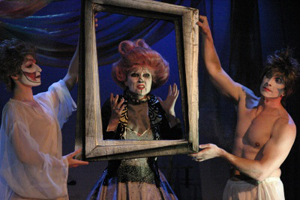 Written by Ray Bradbury, directed by Alan Neal Hubbs.
Presented by Ray Bradbury's Pandemonium Theatre Company
In the new musical , a husband and wife married nearly 40 years arrange separately, without each other's knowledge, to purchase android replicas of their younger selves to give to their spouses as presents. Unintended consequences ensue, and the man and woman each gain a little more knowledge about themselves and about the way life works in this comedic tale.
"Ray Bradbury's Wisdom 2116" previewed in the fall of 2009 under the title "Ray Bradbury's Merry Christmas 2116." The January engagement marks its official World Premiere. The cast of "Ray Bradbury's Wisdom 2116" includes David Stoneman, Michael Prichard, Lisa Morrice, Jessie McLean, Steve Josephson, Sarah Mann, Samantha Marcella, Christine Reese, Andrew Ruesch, Shanti Harter and Monica Thibodeaux.
John Hoke composes the music. A longtime session musician and singer in Los Angeles, Nashville, New York and London, Hoke has written music for commercials and for television. He has toured North America and Europe extensively with the John Stewart Band, and has recorded his own album, "Fortunato," for Homecoming Records. Steve Josephson developed, choreographs and directs "Ray Bradbury's Wisdom 2116." He has previously written, developed and directed the musicals "Some Summer Night" (winner, New American Musical Writers Festival, New York) and "Tea & Crumpets" (Best New Musical, SF Bay Area Theatre Critics).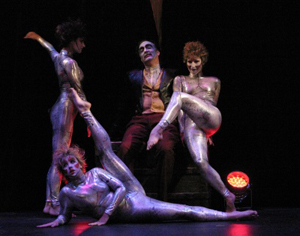 REVIEWS
"Sweet fable about seeking contentment with one's lot is closer to performance art than dramaturgy." -Variety
"Stunningly performed…The acting and dancing were superb." - LA Splash
"A feast for the eyes, ears, and heart…astounding musical play" -American Chronlcle
"A hauntingly beautiful score to envelop them" - Broadway World
"The net effect of this wistful charmer is akin to catching fireflies on a balmy summer night." -LA Times
"Bradbury has not forgotten the wonderment of youth, and his young actors keep the magic alive. Lyricism combined with his puckish good humor captivates and charms." - Backstage West