Lissa Reynolds, FCT Executive Board President
James Reynolds, FCT Executive Board Vice President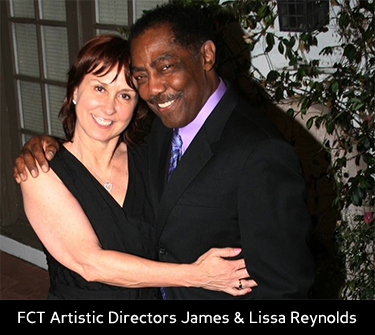 The husband and wife Artistic Director team of James Reynolds and Lissa Layng Reynolds bring an impressive background to the Fremont Centre Theatre as actors, producers, entrepreneurs, and for their community involvement.
James, has been nominated for two Emmys and four NAACP Image Awards and is known presently, and for the past twenty eight years, as the stalwart Commander (sometimes Mayor) Abe Carver on NBC's popular daytime drama, "Days Of Our Lives", where he has the distinction of being the longest running African American on television, in a continuous run. He also starred in the series "Generations" (where he was nominated for another Emmy), the series "Time Express" with Vincent Price, and has guest starred on numerous television shows, including "Seinfeld." James was formerly the Managing Artistic Director of the LART (Los Angeles Repertory Theater Company) at DeLacey Street theater in Old Town Pasadena, for which he gained a reputation for theatrical innovation and excellence.
During the years James was running his Pasadena theater company, Lissa was busy establishing the highly successful Performers Audition Showcase (PAS) the original professional actors' showcase in Hollywood. As an actress, Lissa has toured her one person show "A Woman Of Independent Means" by Elizabeth Forsythe Hailey the past 9 years here and abroad. Lissa also starred alongside Jonathan Winters in the film "Say Yes", and has guest starred on various television shows. In 2013, Lissa received the L.A. Women's Theatre Rainbow Award for diversity in plays & casting in theatre.
For the past 29 years, the Reynolds have resided in South Pasadena where their son Jed, who attended and graduated from the South Pasadena schools before attending UCSB as a Theatre Major. They continue to work in theater, film and television.
In addition to their life as actors they established a successful family-owned adult learning business in South Pasadena in 1991, Classes Unlimited that they ran for 10 years. For this endeavor they received local and statewide recognition as Business Persons of the Year. Prior to starting this adult education business, Lissa, was on the faculty of the Theater Department at Los Angeles County High School of the Arts (LACHSA) at Cal State L.A.
The Reynolds' shared vision of establishing a theater in South Pasadena specializing in plays that are original, unique, and culturally meaningful (with a few old favorites from time to time) became a reality in 1997 when they opened the Fremont Centre Theatre, under the producing non- profit entity of the California Performing Arts Centre, where over the years they have produced and co-produced over 70 plays. They shared their stage with the Pasadena Shakespeare Company for five years and most recently with Ray Bradbury's Pandemonium Theatre Company for four years. The Fremont Centre Theatre is also a home of the Metamorphosis Theatre Company's Detour Improv Comedy.
The Reynolds were named by Pasadena Weekly to be among the 100 Most Influential Persons in Pasadena and in 2000 labeled them as one of the prominent "movers and shakers" of South Pasadena. Their Fremont Centre Theatre was designated by Valley Magazine as Best Equity Waiver Theater, and has received numerous recognitions of excellence from the media, critics ,and the public alike.
During their "off-hours" and "free time" James and Lissa and FCT have maintained a priority of giving back to the community. They have received recognition for their many volunteer and fund raising efforts whose beneficiaries have included: Haven House Women's Shelter in Pasadena, Women's Care Cottage in Van Nuys, the Pasadena Humane Society, the Foothill YMCA, the South Pasadena Police Department, and the South Pasadena schools, The Ronald McDonald House, South Pasadena Educational Foundation, and the South Pasadena Schools where the Reynolds, in their efforts to bring active theater participation to young children, directed local elementary school productions of Shakespeare (for which they both received Distinguished Service Awards from the Arroyo Vista PTSA). For the South Pasadena Middle and High School basketball programs they have organized, for 20 years, annual celebrity basketball games pitting the cast of Days Of Our Lives against various opposing teams, to raise funds for camps and uniforms. For three years Lissa served as a chairperson for the local high school's Career Connection Program where she received her second PTSA Distinguished Service Award and was honored as Congressional Woman of the Year, distinguished as "Woman In The Arts".
On a very personal note -- the Reynolds share, along with their son Jed Reynolds a passion for basketball, which almost equals their love for theater. It naturally follows that James would be pressed into service as coach of Lissa's all-female basketball team for the past 12 years and that Lissa & Jed cheered from the sidelines as James appeared in scrimmages at the Forum before the Sparks' games and in his singing of the National Anthem before the Clippers game. Their son Jed has coached for the South Pasadena High School basketball teams and has appeared as an actor on stage at the Fremont Centre Theatre in "National Pastime", "Ravensridge" and "TopDog/Underdog" which toured as an equity production at the Cape May Stage in New Jersey. They are all three big Laker and KU Jayhawk fans. All of this proves, according to the Reynolds, that the bard and the board go hand in hand!
For ten years the Reynolds have toured with the USO and Armed Forces Entertainment, visiting service men and women and their families through out the Middle East, Europe and Asia. Born and raised in Oskaloosa, Kansas James presently serves on the Board of the Kansas historical society, and is honored to have been named one of that state's 105 Greatest Citizens.
Currently James (a former Marine who served in Viet Nam) is serving as the Celebrity Spokesperson for the Department of Veterans Affairs and Hospitalized Vets, and Lissa is the Founding Director for the South Pasadena Arts Council (SPARC).
Video Interview with Lissa & James: http://southpasadena.patch.com/articles/this-theater-is-a-family-affair#video-1730251