One night Spotlight Show on August 5, 2012.


The Annual Meeting of the American Society of
Lone Fishermen Who Have Found Dead Bodies

Written and performed by T.S. Cook.
Presented by California Performing Arts Center.


There's an old saying: "The worst day fishing is better than the best day working." T.S. Cook probably believes in that saying. In his new solo show ( "Lone Fishermen" for short), he portrays the Angler. The Angler is a family man, who loves his wife and kids, but every so often just needs the peace and quiet and solitude that fishing provides. It's refuge. It puts him in touch with who he is. It's food. It's sport. It's family history. It's a great source of jokes and stories. It provides the answer to one of life's most fundamental questions: "You gonna bitch or fish?" One day, the Angler pulls in more than he bargains for.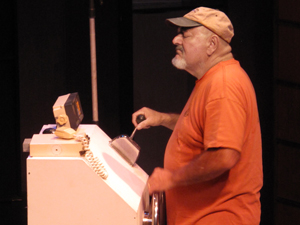 "Lone Fishermen" recently concluded an acclaimed run at the Hollywood Fringe Festival. "T.S. Cook is a master craftsman of language…To sum it up, it's a strong vessel with a strong captain."---T. Bartolone, L.A. Theatre Review.
Cook's play "Ravensridge" played at Fremont Centre Theatre in 2008. He was nominated for an Oscar ® and a Golden Globe ® for co-writing the screenplay for "The China Syndrome," and also produced and wrote episodes of "Baretta" and "Airwolf" and co-wrote the teleplays for "The Tuskegee Airmen" and the remake of "High Noon."