August 23-September 30, 2013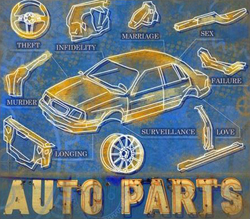 Auto Parts

Written & directed by Steve Stajich.
California Performing Arts Centre and PT Projects.


A story of love, longing, theft, failure, sex, marriage, infidelity, and of course murder!

"Auto Parts" is a theater piece consisting of four interrelated component 'parts' which are presented in an order selected by the audience before each show; the narrative line is never the same twice. In the four segments: a man and a call girl after physical intimacy are in for a big surprise; a woman struggles to keep her husband; a father-son team of thieves discover they may be implicated in a murder of which they are completely innocent; two cops, one male and one female, are on the hunt for a killer.