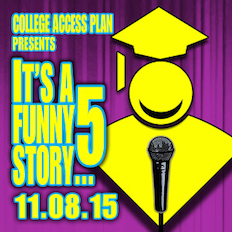 It's a Funny Story...5 - CAP Comedy Night
Benefit event for College Access Plan, hosted by Gary Cannon (Conan; The Late Show with Craig Ferguson), featuring:
Headliner: Lachlan Patterson (Last Comic Standing) and ...
Kelsey Cook
Alycia Cooper
Sarah Brandes
Steve Mazan
Nick Casalini
And Dan Rothenberg
College Access Plan prepares underserved students to succeed in college. Founded in 2006, College Access Plan's core belief is that all students, regardless of socio-economics, geography, or background, have the right to equal access to a college education. CAP allows student access to the tools necessary to successfully enter college.