May-June 2001


Dear John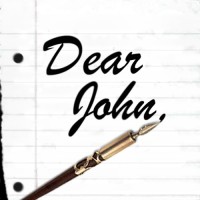 Written by Marcia Cebulska, directed by Julie Briggs.
Presented by the Fremont Centre Theatre, Lissa & James Reynolds in association with Yiffy Productions.
Letters from the heart of a gay man and the woman he loves.
Starring Gary Marschall and Trena Jean Custer
In a touching and humorous exchange of letters, a gay composer and a straight writer spend nine years of their lives trying to overcome their love for each other. With dignity and eloquence, they search for love, fulfillment and escape as they undergo drastic life changes ultimately realizing that their friendship, respect and need for each other is inescapable.
After Emily tells John, her fiance, that she's running away to Peru and can't marry him, "Dear John" follows their life odyssey in a series of angry, whimsical, comedic and desperate letters. The characters move through fame and obscurity, through lovers and lifestyles, but they never lose touch and there is a constant and undeniable sense of belonging to each other.
"DEAR JOHN" began as a one-act, but the fun for audiences was doubled when Marcia Cebulska expanded it to two acts and brought it to the Dramatists Workshop at the Phoenix Theatre in 1983. "The idea for "Dear John" came from reading through my journal entries, many of which I made while living in South America," offers Cebulska. "The play shows two people who are close to each other who are willing to reveal themselves through their dialogue."
Cebulska is a multi-honored playwright who has been the recipient of many awards and fellowships including her most recent from the Kansas Arts Connection. In addition to many others, she won the Jane Chambers International Award, "Best of '87" from Indianapolis City Magazine, Master Arts Fellowship, Indiana Arts Commission, 2000 Winner, Stage 3 Festival of New Plays, and named 'State Treasure' by Indiana Arts Magazine. Among a host of others, her theatrical productions include: "Centaurs," Phoenix Theatre Indianapolis, "Florida," Georgia Rep, "Ken and Barbie do the Nasty at Larry's Leather Bar," The American Living Room Festival NYC, and "Real Live Mythical Women," Paper Moon Theatre Company.
Gary Marschall, who also co-produces, is playing John. His most recent Los Angeles credits include "Body Found" about the Black Dahlia murder case for which he wrote his own episode, and "Lawyers," part of the Rat Conference, both performed at LATC. In NYC Marschall starred in "Positive/Negative" by Alan Contini, one of the first AIDS plays to be produced. Marschall starred in productions at the Henry Street Playhouse, Pelican Theatre, Stella Adler Theatre, and others in New York. Since arriving in Los Angeles, Marschall has been a member of Moving Arts Theatre Company where he starred or co-starred in their productions of "Animals," "Fathers and Dogs," "Grandma's Christmas Goulash," "Outlaws," and "Zero the Divine." On television Gary co-starred in recurring roles on "Spin City" and "Dellaventura" and guest starred on the TV pilot of "Us and Them."
Trena Jean Custer is playing the role of Emily. Her most recent appearance was with Sally Kirkland in "The Powder Room Suite" at The Court Theatre. She has worked with Jessica Kubzansky at MOCA, appeared in "One Flew Over the Cuckoo's Nest" at the Stella Adler Theatre, "Full and Proper Wages" at Lion Star and "Comedy of Errors" at SCRT. On TV Trena starred in "Untitled Love Story," and has a recurring role on the NBC soap "Passions."