March 12-April 9, 2006
Dibujos de Nuestra Frontera
Directed by James Donion
Presented by the Fremont Centre Theatre in association with the California Performing Arts Centre, and Lissa & James Reynolds.
Actor-creators are: Victoria Ramos, Stephanie O'Neill, David Guerra, James Donlon & Carlos Peñuela.
A visually powerful ensemble theatre work addressing issues for the USA-Mexican boarder, immigration, power, and gender relationships. The actors combine inventive movement, zany physical humor, live music, and acting to tell real and surreal stories that spring from the Lation American and California cultures.
Intended for an adult audience, the action is sophisticated and intense, the humor inspired and acrobatic. Employing a fusion of Spanish and English with the body as the driving force, "Dibujos" evokes images from a world invisible to most of us.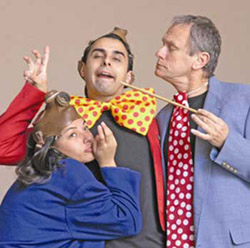 James Donlon (Actor/Director) has presented his original works throughout the world, including Mexico, Ireland, Switzerland, Italy and the Czech Republic, just to name a few. The New York Times has described his work as "an extraordinary blend of skill and lunacy". Donlon has presented residencies for such landmark companies as Luis Valdez' Teatro Campesino, created story boards for PBS Great Performances, and been film movement coach for Oscar Winner Kathy Bates.