September - October 1999


Down The Road

Written by Lee Blessing
Presented by The Fremont Centre Theatre in association with Old Country Productions.

A fascinating psychological drama about a serial killer and the conflicting journalistic ethics of the husband and wife writing team commissioned to record the killer's life.

The Fremont Centre Theatre in association with Old Country Productions, is proud have presented a fascinating psychological drama Down the Roadby Lee Blessing featuring veteran actors making their debut on the FCT stage.

The delicately textured story concerns a husband and wife writing team hired to assist a convicted MURDER/SERIAL KILLER in writing an account of his crimes. The play concerns the gradual revelations into the personality of the killer and the effect writing the book has on the relationship of the couple as they explore the ethics of what they are doing. The dark humor and deep insights offered by the play provides a mesmerizing evening of theatre.

Author Blessing's A Walk In The Woods ran on Broadway and was subsequently produced in Moscow and in London's West End where it starred Sir Alec Guiness. His works have premiered at the Manhattan Theatre Club, Yale Repertory Theatre and the La Jolla Playhouse among others, and have been nominated for Tony and Olivier Awards, as well as the Pulitzer Prize.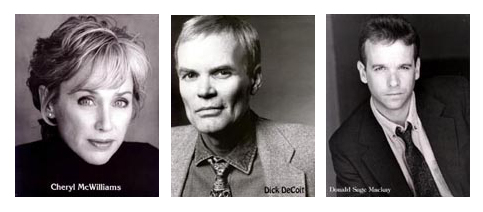 Donald Sage Mackay, Cheryl McWilliams and Dick DeCoit shared the stage. A L.A. Drama Critics Circle Award Winner, Don is fresh from covering the Duke in Measure for Measure and Oberon in Midsummer Night's Dream while appearing onstage in other roles as part of these Peter Hall-directed productions at the Ahmanson Theatre this past summer. Cheryl and Dick were both recently seen in the critically acclaimed Three in the Back,Twice In The Head at the West Coast Ensemble in Hollywood and are past DramaLogue Award Winners.
Directed by Richard Large, himself a DramaLogue Award Winner, and produced by Jason Dravis, Down The Road has inspired the passions of everyone involved who look forward to sharing this wonderful piece of material with you. The production allowed Richard, Don and Dick to work together for the first time, since all hail from the same home town (Concord, CA) and have searched for the right piece to bring them together.