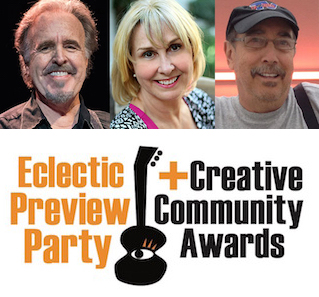 Sunday April 23, 2017 @ 4:30pm
The Eclectic Preview Party & 2017 Creative Community Awards
A fun evening of cocktails, dinner and music honoring Dave Plenn, Lissa Reynolds & Howard Spector.
You're invited to The Eclectic Preview Party! Enjoy music, food and cocktails in the comfort of Craft Hill Restaurant. Get a sneak preview of some of the bands playing The Eclectic 2017. And help us celebrate the recipients of the 2017 Creative Community Awards: Dave Plen, Musician and owner of South Pasadena's Dinosaur Farm, Lissa Reynolds and Howard Spector, SPARC, South Pasadena Arts Council
Musical Performances by Shelby Gogreve, Powdercoat, Redd Carter & Kelly Kidd, Aaron & Jane, Daniel Szabo, and our own Brad Colerick and the entire South Pasadena Transit Authority!