January-February 2006


3 Blacque Chix: Herotique...AAHH...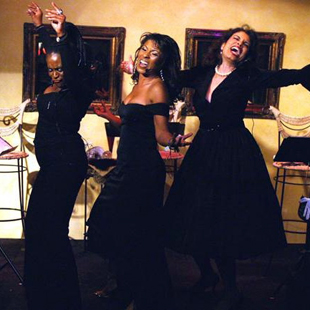 Starring & Written by: Mariann Aalda, Lola Love, Iona Morris
Directed by: James Reynolds Musical
"Herotique-Aahh..." is irreverent, funny, sexy, thought-provoking. With its "naughty" stories, sassy commentary and irreverent comedy told by three scrumptiously scintillating -- and unabashedly "seasoned" -- women in their prime, "The best sex you've ever had with your clothes on!!!" For anyone with concerns about sexual viability past mid-life, these beautiful and bodacious chix are unquestionable proof that the best is yet to come...and that you will definitely come again! Standing ovations and standing-room-only for months in cabaret . The runaway hit of the 2005 National Black Theatre Festival.
REVIEWS
"3 Blacque Chix: 'Herotica,' is irreverent, funny, sexy, thought-provoking...mostly though, it is refreshing to experience the voices of these three extremely talented and vivacious entertainers." -Blair Underwood, Actor
"Take one naughty, delicious, saucy housewife, and one sensual, alluring, river-in-a-cocktail-dress, and add one sizzling, La Belle-inspired, double dipping hot mama -- and you have 3 Blacque Chix!" - Marilyn Kentz, "The Mommies" & "Boomer Babes"
"Absolutely wonderful energy, honesty and exhibit of soulful courage in human sexuality after forty..." -Maia LaVille, ROLLING OUT
"Blacque Chix is not just a production every black woman needs to see; it's an entertaining, sexually enlightening, and educational experience men and women -- black, white, and everything in between --deserves to enjoy." -Malcolm-Jamal Warner ("Listen Up", "Malcom & Eddie", "The Cosby Show").
"3 BLACQUE CHIX lets all the secrets out the bag. Through history -- written and spoken -- everyone has attempted to define black women. Well, "3 BLACQUE CHIX" tells you who they really are. You will never look at any black woman the same way again. Fasten your seat belt and be prepared to be tickled -- and I do mean more than your toes!" -Anna Maria Horsford, "Method Man & Red"," The Wayans Brothers", "Amen".