September-October 2008


Inside Private Lives - An International Hit!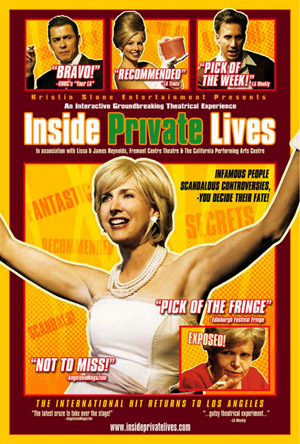 Created by Kristin Stone, directed by Lee Michael Cohn
INSIDE PRIVATE LIVES takes audiences on an emotionally charged ride along the 20th-century timeline, interacting with infamous controversial figures along the way. Audience members become part of the experience as they are given roles (e.g. a journalist, a government official, an attorney) and encouraged to confront, challenge and question the characters in an effort to decide their fate.
Challenge cult leaders, celebrities, political operatives, sports figures and other notorious newsmakers of the 20th-century. You'll meet the likes of Branch Davidian David Koresh, Cincinnati Reds' Marge Schott, abdicated royal the Duke of Windsor, transgendered pioneer Christine Jorgensen, America's beer drinking "first brother" Billy Carter and many others. Every show is different. "****Certainly Not One to Miss!" (The List Magazine, UK)
REVIEWS
"RECOMMENDED!" "…best after a couple of martinis...I mean that as a compliment." -Los Angeles Times
"PICK OF THE WEEK!" "…[a] gutsy theatrical experiment...the interplay is seamless, fresh and intense…" -LA WEEKLY
"Be There, Do That: Our Absolutely Not-to-Miss Picks…the latest craze to take over the stage…" -Angeleno Magazine
"Inside Private Lives is thinking man's theatre – a challenge, a theatrical treat and an ingenious investigation into other people's lives…It is a spanking new idea and it works," raved Clarissa Sebag-Montefiore, Fest Magazine (UK).
Starring:
KRISTIN STONE (Christine Jorgensen)
FREDDY DOUGLAS (King Edward VIII)
MOLLY HAGEN (Aimee Semple MacPherson)
LEONORA GERSHMAN (Julia Phillips)
MADDISEN KROWN (Jane Roberts)
ADAM LEBOW (Elia Kazan)
MARY MACDONALD (Marge Schott)
EILEEN O'CONNELL (Brownie Wise)
PAUL THOMAS RYAN (Bobby Sands)
BRYAN SAFI (Billy Carter)
DAVID SHOFNER (David Koresh)
SHEILA WOLF (Wallis Simpson)