Sunday, November 23, 2003-Spotlight Performance


Jacks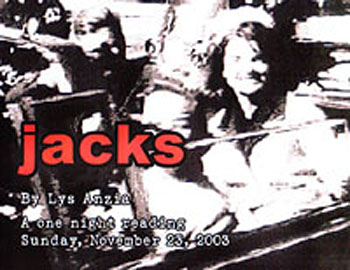 Written by Lys Anzia, directed by James Reynolds.
"JACKS" is the chilling story of Jacqueline Kennedy as she witnessed the events following the murder of her husband.
Simultaneous staged reading of a newly commissioned play by Lys Anzia commemorating the 40th Anniversary of the assassination of JFK seen through the eyes and experience of Jackie Kennedy, during those hectic days.
For the 40th anniversary of the assassination of U.S. President, John F. Kennedy, theatre locations around the country from Wellesley, Massachusetts to Baton Rouge, Louisiana and, including South Pasadena's Fremont Centre Theatre.
Dramatist Lys Anzia, of Boulder, Colorado, spent 10 years researching and writing the play which has never been performed before. "I have always been intrigued by Jacqueline Kennedy," Anzia said, "It was astonishing for me to realize when Jacqueline's husband was killed she was only 34 years old., There is much the public does not know about the story. Much that needs to be told."
The reading will feature FCT's co-artistic director, Lissa Layng, reading the role of Jacqueline Kennedy, favorites from the FCT stage, John O'Connell and F. William Parker ("The Dock Brief", "A Lesson From Gauguin", "Van Gogh's Ear", "Greatest Hits") and Rob Moran, "Days Of Our Lives".