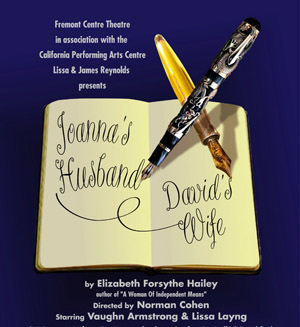 March -April 2007


Joanna's Husband, David's Wife

Written by Elizabeth Forsyth Hailey, directed by Norman Cohen.
Presented by The California Performing Arts Centre and Lissa & James Reynolds.

Starring Vaughn Armstrong and Lissa Layng

This charming play tells the story of a 25-year marriage, set from the 60s to the 80s, a turbulent period during which gender roles (including those within a marriage) were being tossed about and redefined.

Joanna meets David when she is hired at a local newspaper. They marry, and she is a housewife, while he struggles as a playwright and then starts to write for television. He brings her aboard while writing for a soap opera and she goes on to become a successful novelist. She is no longer just David's Wife. As hZer professional recognition surpasses his, he finds himself becoming Joanna's Husband.

Elizabeth Forsythe Hailey, who based the play on her best-selling novel, elaborates: "Joanna has kept a journal from the day she met David, which he only discovers when she leaves it for her grown daughter, who has fallen in love for the first time. In telling his side of the story, David discovers thehidden woman behind the docile wife he thought he knew. The dual (and dueling) perspectives provide an intimate portrait of a marriage in an age when the meaning of marriage is being redefined.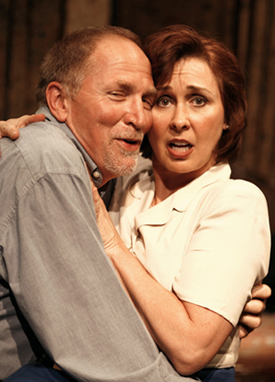 REVIEWS
"Could it be that the new comedy pairing of the Twenty First Century is Lissa Layng and Vaughn Armstrong? Together, these two are nothing if not extrodinary..." - ReviewPlays.com
"It's a lovely primer in the actor's art, delivered with great polish and deceptive ease." - Pasadena Star News
"It just doesn't get any better than this!...Take someone you love to this powerfully humorous and endearing journey of the heart!" - The Tolucan Times
"There was no better casting than Lissa Layng and Vaughn Armstrong... They are reminiscent of the old Hollywood days when the pairing of such grand couples like Katherine Hepburn and Spencer Tracy, Ginger Rogers and Fred Astair and fictional detective characters Nick and Nora Charles from the Thin Man series...Like their predecessors, Layng and Armstrong had that spark to make it work. You just do not see that dynamic and sophistication emit from the stage very often." - SoCal.com
"Joanna's Husband & David's Wife is an original, soulful piece that stands out among the plethora of plays that explore the complexities of marriage." - LA Weekly
AWARDS
Winner: Best Production of Revival- VTL Artistic Director Achievement
Award Winner: Lead Actor in a Comedy - VTL Artistic Director Achievement Award- Vaughn Armstrong
Nominated: Best Actress in a Comedy- VTL Artistic Director Achievement Award- Lissa Layng
Nominated:Best Set Design-VTL Artistic Director Achievement Award- Evan Bartoletti
Best 10 Actresses Of 2006 - ReviewPlays.com Lissa Layng