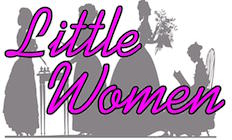 May 2016
Little Women - A Play in 3 Acts, by John D. Ravold
Based on the Novel, by Louisa May Alcott. Presented by Young Stars Theatre.
What's not to love about this enduring classic? Who can forget tomboy Jo and her sacrificing her glorious hair to help finance her mother's trip to Washington, when the telegram arrived saying her father was dying? Her beautiful moments with Little Beth when they both knew the Angel of Death was hovering near? The characters, themes, and memorable scenes of Little Women make this show a delightful experience for young and old.