June-July 2000


One-Act Squared: An Evening of One Act Plays

Presented by Lissa & James Reynolds and the Fremont Centre Theatre in association with EMA Theatricals.

ACT 1 - AN ACTOR'S NIGHTMARE by Christopher Durang, directed by Annie Brophy Sitter.
The story of accountant George Spelvin, who is mistaken for an actor's understudy and forced to perform in a play for which he doesn't know any of the lines. Starring Matthew Solari, Deborah Glenn, Jaxon Duff Gwillim, Shannon Hutchison, and Julie Taub. Directed by Annie Brophy Sitter

ACT 2 - CONVERSATIONS by Melissa Cantrell, directed by James Reynolds.
A drama about two women helping a young man face his personal demons. Starring Pamela Roylance, Marie Alise Recasner and Lancer Dean Shull. Directed by James Reynolds.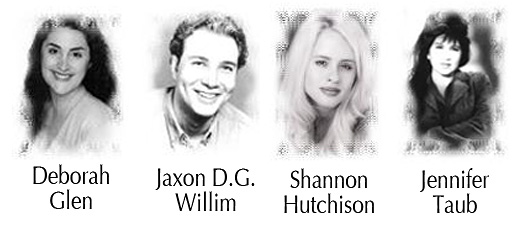 REVIEWS
"An Evening of Two One-Act Plays"
An article from The Tolucan Times by Faith J. Dickinson
Wednesday, June 21, 2000
"The evening begins with Christopher Durang's hilarious spoof, The Actors Nightmare. George Spelvin, played by Matthew Solari, enters the theater from the audience's point-of-view, slightly dazed and confused as to where he is.Out of nowhere pops Meg, the stage manager (Deborah Glenn), who instructs George to get ready to go on because the lead actor can't make it. This drives George further into his state of confusion, because he can't remember attending a rehearsal and has no clue what play he's about to be in.
George soon meets all the other actors who are each calling him by a different name. George goes off to get into costume, Meg calls places and the fun begins. Enter Sara Siddons, hilariously played by Jennifer Taub. She knows the play, but George doesn't. He fumbles desperately searching for the right lines and the right play. Meg, now "disguised" as a maid comes to his rescue--several times.
Ellen Terry, played by Shannon Hutchison bolts on the scene adding even more confusion to the confusion already on stage. Henry Irving, played by Jaxon Duff Gwillim has hit time in the sun with George in a completely different play. Each time a new line is uttered, a different play emerges, with each actor playing several different characters in several different plays. Matthew Solari's comedic timing is brilliant. Shannon Hutchison is captivating both with her beauty and her goofy portrayal of one of the characters. Jennifer Taub took the theater by storm with her entrance and kept everyone in stitches. Jaxon Duff Gwillim performed his role with perfection and skill. Deborah Glenn was a treat to watch both as the stage manager, but mostly as the rescuing maid.
Conversations concerns the remnants of a family with unresolved issues. Renie, played by Lancer Dean Shull, visits his boyhood home with his friend Milena, played by Marie Alise Recasner. Their visit is soon cut short by the arrival of Rachel, Renie's sister, played by Pamela Roylance. Immediately the tension builds and the conversation reveals that Renie left home shortly after his mother's death with no explanation and no further contact. Rachel, ever the caretaker, attempts to draw from Renie a reason why he left so suddenly and tries to make him understand how hurtful he has been. Milena unsuccessfully tries to defend Renie against Rachel's pounding questions and accusations.
Slowly and painfully, the family secrets are revealed, the blame is cast and the family issues remain unresolved. Lancer Dean Shull's performance is intense, explosive and reminiscent of a James Dean performance. Pamela Roylance is relentless in her attack and expertly keeps the action going. Marie Alise Recasner plays her part well, as the friend in the middle. James Reynold's direction keeps the intense drama moving along and guides his actors through the family issues well."