June 22, 2007-World Premiere


Ray Bradbury's Green Town

Written by Ray Bradbury, directed by Alan Neal Hubbs.
Presented by Ray Bradbury's Pandemonium Theatre Company

"Ray Bradbury's Green Town." is a themed evening, a deft mix of fantasy and nostalgia set in the mythical town of Green Town, Illinois, probably suggested by Bradbury's own birthplace, Waukegan. It's an indeterminate time, somewhere around 1930 perhaps, in a Midwestern place where trees line streets surrounded by abundant flora, giving the locale its name.

It's a place where businesses are locally owned, and their proprietors are known to all, as are people's neighbors. It's a peaceful town….until fantastic events begin to intrude, of course. But this is not a time of dread. It is a time of fondly remembered wonders.

It turns out that Green Town is not a sleepy little Midwest town. It is a portal to a world of amazing adventures, where shackles are removed from the imagination and the impossible becomes reality. Young boys discover the secrets of time travel and, while they still can, visit the sights and sounds of decades past.

Hurtling from antiquity, an ancient Egyptian mummy materializes and electrifies the village walking the streets. A famous novelist appears in town, with the ability to transport a young boy to cities and battlefields far away. This shouldn't be possible. The writer is supposed to be dead.

Another miracle manifests: The writer meets a soul-mate, and falls deeply and profoundly in love. Just exactly how much magic can occur on the streets of one little town?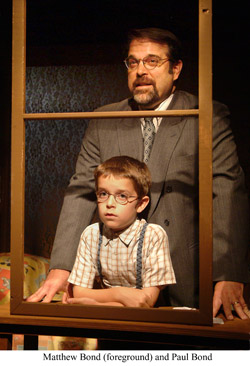 "The designs are evocative, with assets in Peter Strauss' moody lighting and David Gunn's tinkling original score, and Bradbury's ripe language sustains past the odd exposed beat or shaky transition of director Alan Neal Hubbs' sturdy staging. As such, the net effect of this wistful charmer is akin to catching fireflies on a balmy summer night." –David C. Nichols, LA Times
STARRING:
Michael Prichard
Georgan George
Paul Bond
Philip Sokoloff
Anders Asbjornsen
Matthew Bond
Gabe Kahn
Cole Rainey
David Fox-Brenton
Roses Prichard