Opened July 11, 2009-World Premiere


Ray Bradbury's Yestermorrows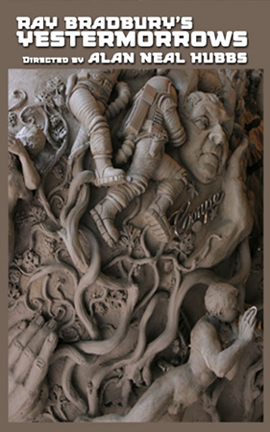 Written by Ray Bradbury, directed by Alan Neal Hubbs.
Presented by Ray Bradbury's Pandemonium Theatre Company
"Ray Bradbury's Yestermorrows" is a collection of favorite tales from America's Storyteller adapted for the stage. One of the stories is presented on stage for the very first time. Two others are stage classics
. The new story is "The Meadow." The elderly night watchman at a motion picture studio lot finds himself with a great responsibility: He is the protector of the entire world. There are those who would come to destroy, and the old man must summon all his wit and intelligence to dissuade them from their grim task.
For classic chills on a warm summer night: "Cistern" is the story of a young couple in love. They're undead and "live" in the cistern that runs underneath the city.
"A Device Out of Time" is a tale in which youngsters discover the secrets of time travel and, while they still can, visit the sights and sounds of decades past.
REVIEWS
"Master storyteller Ray Bradbury´s creative genius once again teases our minds and pulls at our heartstrings in this trio of short plays. Wonderful author, talented actors and able direction!" - Jackie Houchin , American Chronicle
"Ray Bradbury: Leading From The Heart." - Deborah Behrens, LAStage Times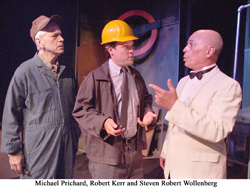 STARRING (in alphabetical order):
David Fox-Brenton
Daniel Casanova
Seth Casanova
Georgan George
Robert Kerr
Michael Prichard
Roses Prichard
Andy Sell
Steven Robert Wollenberg