August 11, 2013 - Special Spotlight Performance


Singing Outside The Box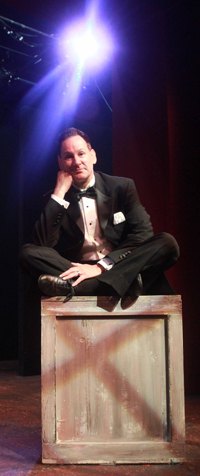 Written and performed by R. Christofer Sands.
"Why is it that a voice that is a rare commodity in a sought after field as challenging as opera is so casually dismissed in musical theatre."
R. Christofer Sands' second one-man show "Singing Outside the Box" brings his talented and quirky singing style to the forefront. A skilled actor and vocalist – with a four-and-a-half octave range! – he brings a program of roles and anecdotes that makes you understand why he enthralls audiences with his performances and bewilders directors with what to do with his out of the box style. Once you see this performance you'll understand how much more there is to him than just an actor.
Christofer's stage credits include the roles of John Merrick in The Elephant Man (OC Weekly Theatre Award); Pirelli/Fogg in Sweeney Todd (Stage Scene LA Award, LA Stage Alliance Ovation nom.); Mary Sunshine in Chicago (LA Stage Scene, ITL Awards); Waiter in She Loves Me (ITL Award); Crystal Belle in Miss Desmond Behind Bars (Ovation, BSW/Garland noms.); Emcee in Cabaret; Bela Zangler in Crazy For You; Fagin in Oliver!.
Chris is perhaps best known for his Ovation Award-winning performance as Joseph/Josephine in the premiere productions (LA and off-Broadway) of Pinafore! A Ship-Shape New Musical from H.M.S. Pinafore by Gilbert & Sullivan adapted by Mark Savage. Chris was also awarded an LA Weekly Special Commendation and Fringe NYC Festival Excellence Award for his contributions to the production. (Also: LA Drama Critics Circle, BSW/Garland and Robby Award noms.)
Chris' recordings include the original cast CDs of Pinafore!, Miss Desmond Behind Bars and It's Never Too Late! opposite opera and jazz legend Eileen Farrell and Broadway veteran, Tony and Emmy award winner George Hearn. In film and television Chris has worked with Robert DeNiro, Liza Minnelli, Gena Rowlands, Gloria DeHaven, Michael J. Fox, and Martin Scorsese. Chris performed his one-man show titled An Invisible Man to great acclaim and is happy to be in front of the public with his new one-man show.