May-June 2010


Skylight

Written by David Hare, directed by Ken Meseroll
Presented by Metis Productions in association with Lissa & James Reynolds, The Fremont Centre Theatre and the California Performing Arts Centre – under special arrangement with Samuel French, Inc.

Starring: Stuart W. Howard, Ben Perry & Erin Shaver.

In David Hare's 1995 play "Skylight," there's a reunion of two lovers. Kyra had broken off her six-year affair with Tom to save his marriage to Alice, Kyra's close friend. But Alice has now passed away. Tom and Kyra had been loving and passionate with each other. Now, there should be nothing keeping them apart, right?

It's not so simple. Tom is a world-renowned restaurateur, with the attendant material comforts and an extra helping of the arrogance conveyed by a surfeit of wealth and privilege. Kyra has settled into a more meager existence, living in a freezing flat in a down market part of London, taking the bus across town to teach kids in a school in a poor neighborhood (because that is where she is most needed). Edward, Tom's 18-year-old son, has also been around to visit Kyra, to inform her of how insufferable Tom has been. But that merely marks Edward as a typical 18-year-old.

Will Tom and Kyra, who once loved each other deeply, now be able to bridge the gaps between them and reunite as lovers?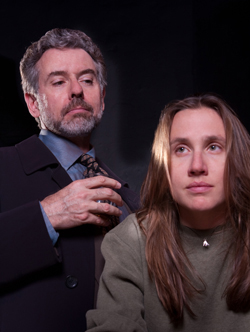 REVIEWS
"Magnificent"- New York Post
"Thrilling"- Sunday Times (London)
Ken Meseroll directs this new production of "Skylight." His Los Angeles directing credits include "The Root," "Loyalties," "What Happened Was," "Who's Afraid of Virginia Woolf?<" "Waiting at the Malibu Diner," "Othello x 3," "Madamoiselle Colombe," "All I really Needed to Know I Learned in Kindergarten," and "The Volunteer." Also an actor he appeared in a recurring role on the series 'Without A Trace" and voiced Derek Wildstar for the anime series "Star Blazers."
"Skylight" reunites actors Erin Shaver and Stuart W. Howard, who appeared in leading roles in the acclaimed 2009 production of "The Miracle Worker," which played at the Matrix Theatre and moved to Edgemar Center for the Arts. Ben Perry plays Tom's son Edward.