October 12-November 18, 2012 - World Premiere


Slice

Written by Paul Kikuchi, directed by Jeff Liu.
Presented by the Metamorphosis Theatre Company

"Slice" is the touching and comedic story of a young Japanesse blacksmith and his quest to create the perfect Samuri sword.

"Comedic timing is paramount to staging any successful comedy and Slice has that in spades." - Sandy Huynh, Life in LA

"SLICE, to put it simply, is fun and absurd.." - Scott Eriksson, AsiansInFilm.com

"I am excited to be working on such a wonderful and heart-felt show. It is the perfect blend of romance and humor. We are also thrilled to be working with South Pasadena local playwright, Paul Kikuchi. It is such an honor." says Justin S. Fisher, MTC's Artistic Director.

SLICE featured an all-star cast of talented actors, feature wonderful new talent, Scott Takeda (Boba & Melon Gum & Luneup), Elizabeth Ho (Tron: Uprising & Melissa & Joey) & Aaron Takahashi (Yes Man, Welcome to the Jungle, Community) and vetran performers - Emily Kuroda (L.A. Law, The Bold & The Beautiful & Red) & Mike Hagiwara (Wes' Craven's New Nightmare, Jimmy Newtron: Boy Genius & Blast from the Past.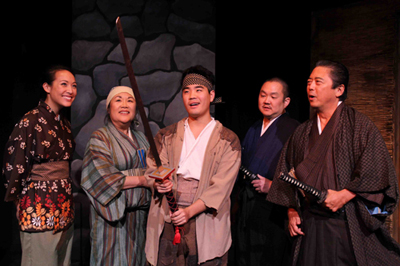 About Metamorphosis Theatre Company
Metamorphosis Theatre Company is dedicated to providing unique arts education for youth who aspires to become a part of the entertainment industry through internships with professionals; At the same time, seasoned artists find Metamorphosis to be a home to produce quality dramatic arts that appeal to the aesthetic as well as the intellect. The idea of a nurturing theatre company catering equally to students and professionals alike is Metamorphosis' unique vision.