Opened March 14, 2009


Stripped Bare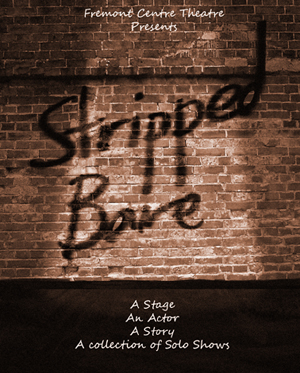 Presented by by James and Lissa Reynolds in association with
California Performing Arts Centre.
Stripped Bare is the name of the collection of remarkable solo shows enacted by acclaimed women performers at Fremont Centre Theatre, beginning in the middle of Women's History Month and including a Mother's Day weekend celebration . Despite that title, there's no nudity here. Stripped Bare refers to the simplicity of the enterprise: A stage, an actor, a story. This is intended to be the first in a biennial series of such collections. All three of the selections for 2009 are award-winning works.
March 14- April 5
"Refugees"
Written and performed by Stephanie Satie. Directed by Anita Khanzadian.
A woman teaching English as a Second Language to immigrants from Iran, Armenia, and countries from the former Soviet bloc finds herself colliding with their cultures (and notably with women's roles within them). She must ultimately come to terms with her own suppressed ethnicity as, in the course of her work, she delves into the hearts and minds of her students. Ms. Satie performs 7 female and 3 male characters. "Refugees" was originally presented at the Bitter Truth Theatre in North Hollywood in 1998 and subsequently went on to tour internationally.
"A parade of vivid and touching characters….120 % passion!"---The Stage (London)
April 17- May 3, May 15-17
"Beneath Rippling Water"
Written and performed by Sybyl Walker. Directed by Gregg T. Daniel.
Ms. Walker describes the piece: " 'Beneath Rippling Water' is a compelling, hilarious, disturbing trilogy about navigating the maze of secrets, life and love. Utilizing drama, comedy, song and spoken word, Sybyl Walker creates unforgettable portraits of three unique and fascinating women in love. As we meet them and 12 other men and women that inhabit their worlds, we are taken on a rollercoaster ride of emotions. Journey into the depths of what lies beneath the surface of their lives; the joys and the vulnerabilities, and experience a very human story about hope, love and reclaiming oneself."
"Beneath Rippling Water" was first performed at Company of Angels Theatre in Silver Lake in 2006.
May 8-10
A Special Mother's Day presentation of "A Woman of Independent Means"
Written by Elizabeth Forsythe Hailey, adapted from her novel. Performed by Lissa Layng. Original direction by the late Norman Cohen.
The Fremont Centre Theatre continues its Mother's Day weekend tradition of presenting Lissa Layng in "A Woman of Independent Means."
This is the story of Bess Steed Garner, a grand unfolding tale of what it was like to be an adventurous spirit in the first seven decades of that exciting time that came to be known as the American Century. Through challenge and triumph, through depression and wealth, through wars and peace, through sorrows and joy, through adversity and victory, Bess is emblematic of the fierce courage and independent spirit of that historical force to be reckoned with, the emerging American Woman of the 20th Century.
"Lissa Layng's brilliant talent makes every phase of the character believable."---Entertainment Today