November 26-December 19, 2011
Sweet Mama String Bean: A Celebration of Blues Woman Ethel Waters
A musical play written by ValLimar Jansen and William Stout.
Presented by Kim O' Rourke, Barbara Goodwin Masters, Lissa & James Reynolds, and the California Performing Arts Centre.
Starring ValLimar Jansen with Musical Director Frank Jansen.
Fresh from a triumphant engagement at Fremont Centre Theatre in South Pasadena, ValLimar Jansen and Frank Jansen bring their "two-person, one-woman show" about legendary performer Ethel Waters, star of radio, TV, Broadway and feature film, to Covina Center for the Performing Arts.
Ethel Waters (1896-1977) was the daughter of a 12-year-old rape victim. Ethel grew up unsupervised on the streets of Philadelphia. She sang and danced at church functions and made her way into Black vaudeville in 1917. Appearing first in Harlem nightclubs and then crossing over into the "white time" vaudeville circuit, she became a celebrated blues singer and starred in 12 Broadway productions, ultimately becoming one of the highest paid entertainers in America. Harold Arlen wrote the song "Stormy Weather" specifically for her. She became the first African-American female to star on a national radio show and a TV series, and was nominated for an Oscar and an Emmy. Ms. Waters became a born again Christian and toured with the Billy Graham Crusade in the last decades of her life.
ValLimar Jansen portrays Ethel Waters in the show "Sweet Mama String Bean." Ms. Jansen is herself noted for her vocal performances of jazz, pop, gospel and contemporary Christian music. She holds degrees from California State University San Bernardino and University of California Santa Barbara. During the course of the show, Ms. Jansen will perform 14 of the songs made famous by Ethel Waters, among them "Stormy Weather," "My Handy Man," "My Handy Man Ain't Handy No More," "Shake That Thing," "Am I Blue," and "His Eye Is on the Sparrow."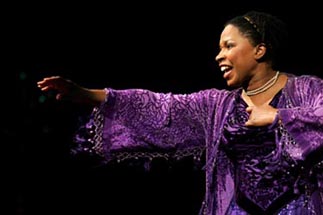 Ms. Jansen is accompanied by husband and Musical Director Frank Jansen. A professional musician for over thirty years, he received a Master's Degree in Liturgical Music Composition from Santa Clara University., and has composed in liturgical, jazz, classical and pop idioms. He has performed with stars of Gospel, pop, Latin and R&B music.
Mr. Jansen plays piano and leads the combo of Mike Acosta on saxophone, Sammy K on drums, and Ruben Ramos on bass.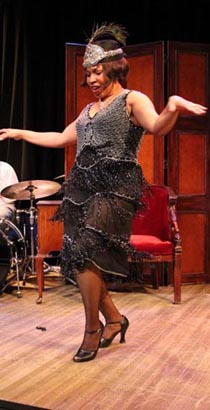 "Sweet Mama String Bean" is the recipient of a special commendation from the Kennedy Center of the Performing Arts in Washington, D.C.
Audience members already familiar with Ethel Waters will love this presentation of her story and her music. For younger audience members, the show will be a revelation. This show is especially for anyone, young or old, who loves the blues.