1997 - World Premiere


Three Songs

Written by William Mesnik, directed by Michael Canavan.
Performed again in 2002.

A play with music, about love, loyalty, a reunion concert and the Hollywood blacklisting era.

THREE SONGS played to rave reviews and wildly appreciative audiences during its initial extended run in 1997. The 2002 production of THREE SONGS was directed by Michael Canavan with author William Mesnik as musical director and starring Jennifer Hetrick as Kathy; Stephen Rockwell as Fred; and Ken Story as Curly. They comprised the musical trio who enjoyed past fame as The Calendars, but silenced and separated by ideological differences for over 7 years. Now they come together once again to select and agree on three songs to play at a televised Calendars reunion concert. Can it be a reunion concert?

The husband and wife musical team of Fred and Kathy refused to sign the loyalty oath during the Hollywood blacklisting era forcing them to eke out a living in the hills of West Virginia playing camps and rallies while Curly maintained a spiraling successful Hollywood solo career unhampered by ideological conflicts and refusals. HOW and IF this talented group will be able to reunite both in concert and belief provides a powerful, fascinating evening of theatre interspersing drama with traditional folk music.

REVIEWS

"..skillful, believeable, touching." - L.A. Times

"A winning idea..not a note seems false." - Back Stage West - CRITICS PICK!

LAWeekly - PICK OF THE WEEK!

During its original inaugural production at the Fremont Centre Theatre in 1997 critics termed THREE SONGS "great theatre. . . "flawless". . . "magnificent". . . "powerful". . . "emotionally fulfilling". . . and the audience came away with a toe-tapping experience not soon to be forgotten.

THREE SONGS, garnered Critic's Choice in the LA Times, an LA Weekly nomination for Best Ensemble, several regional productions, and a film option.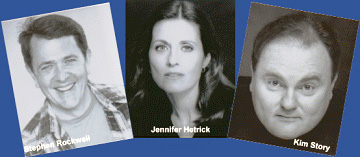 NOMINATIONS
Dan Manning, Lead Actor in a Musical
William Mesnik, Lead Actor in a Musical
Charlotte Booker, Lead Actress in a Musical
Michael Canavan, Director of a Musical