Opened in 2011


Top Dog / Underdog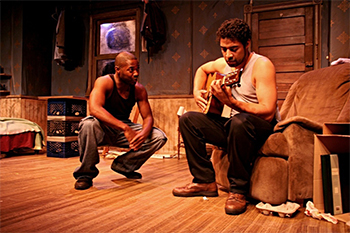 Written by Suzan Lori Parks, directed by James Reynolds
Also featured on the Cape May Stage in Maine.
"Topdog/Underdog" is the 2002 Pulitzer Prize winning play about two African American brothers, named Lincoln and Booth. Given these names as a "joke" by their father, the two men cope with women, work, poverty, gambling, racism, and their troubled upbringings. Using three-card monte as a metaphor, this play is ultimately about the Great American Con. Like the title suggests, "Topdog/Underdog" is a play about competition, reversals, and mirror images that reflect the true self. Starring Jed Reynolds as "Lincoln" & Stephen Rider as "Booth".
REVIEWS
Ovation Recommended!
"The performances soar."—Don Shirley, L.A. Stage Times
"Prime Pick! Pumps new life into the local theater scene….Shimmers with wonderful dialogue."—Carl Kozlowski, Pasadena Weekly
"Highest Rated."—Theatre In L.A.