Opened February 16, 2013


Von Bach!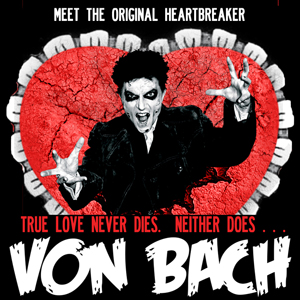 Written by Owen Hammer. Directed and produced by Scott Rognlien.
Presented by The Next Arena and California Performing Arts Center.
Frankenstein's monster? Low on charge. Dracula? Toothless. The Mummy? Dried up. The most terrifying undead being to walk among the living is the one, the only VON BACH!
Baron Heinrich Von Bach was the nineteenth century mad scientist resurrected from the dead by his own ungodly invention. At least that's the story Hollywood told when they got hold of the gothic romance novel written by Elsa Jaeger. For a hundred years they've made as many films based on the bloody life and undeath of Von Bach. Today, Worldwide Studios has hired screenwriter Minna McPheeters to make the true story of Von Bach, an epic saga of love and loss.
Suddenly, in the middle of production, the real Von Bach returns once more from the dead and he is going to teach the cast and crew the real meaning of "development hell." This Valentines Day, true love won't die, and neither will . . . VON BACH!
The cast includes Lori Anne Edwards, Jonathan Howard, Maia Peters, JR Reed, Summer Stevens, Matt Taylor, and David Wilcox.
Owen Hammer is the playwright. He's written one-acts for the Next Arena, web series for Jim Belushi and Todd Gallina, short films, TV pilots, animation, and he also has a thriving career as a visual effects artist, having worked on such films as "Quantum of Solace," "Piranha 3D" and "Green Lantern."
Scott Rognlien directs. A graduate of Northwestern University's Performance Studies program, he is the Artistic and Managing Director of The Next Arena. With TNA, he directed "No Exit," "We Won't Pay! We Won't Pay!," and "The Angry Guy in the Pink Hat," and adapted for the stage Nabokov's "Invitation to a Beheading." He has also directed shows in Chicago, Oregon and England.
Sound design: Matt Richter. Set design: Kurtis Bedford. Lighting design: Kate Leahy. Filmed segment directors: Rognlien, Hammer, and Craig Kuehne. The show is a co-production of The Next Arena and the California Performing Arts Center. The venue, Fremont Centre Theatre, was once a funeral home, making this an appropriate choice for this entertainment.
Don't be scared. It's only a comedy. You'll die laughing! Bwahahahahahaha!!!!!
"Von Bach ingeniously and hilariously parodies not only the man-becoming-monster storytelling tradition..my brain buzzed with delight.."-Don Shirley, LAStage Times.