August 8-31, 2003


Whatever Your Heart Desires

Written Christine Rosensteel-Savalla, directed by Lewis Hauser
Presented by Tea Party Productions.

Comedic-Tragedy...Planets collide when young grifters encounter refined, elderly couple in Hollywood. Beauty & wisdom vs. greed & ignorance.

In the play, a young homeless couple fresh off the Greyhound from West Virginia encounters a refined, elderly couple in Hollywood who invites them to stay in their home. Generational and cultural differences clash, creating natural comedic moments. It's a character-driven play that will make you laugh and cry. The playwright weaves a story that will stimulate, educate and entertain. She opens the door wide on elder abuse, exposing society's hidden attitude: "They have one foot in the grave, anyway." The perils faced by those lucky enough to get old, and the motivations of those who prey on them are portrayed in an entertaining manner. Before play's end, both dreams and nightmares have come true.

Earlier work by the playwright received this review by L.A. Weekly: "Rosensteel-Savalla possesses a true ear for dialogue and a fresh idiosyncratic take on character... an entertaining and memorable manner that steers clear of didacticism... it was a happy surprise to find an exceptional level of talent..."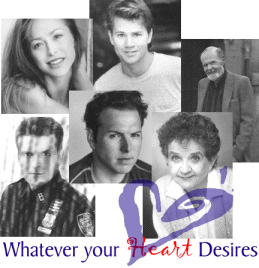 Starring:

King Stuart

Pat Crawford

Antonia Jones

John Newman

Lancer Dean Shull