September-November 2001


Yes Sir, That's My Baby!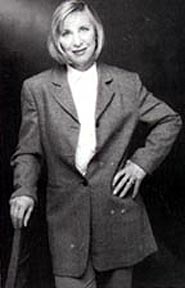 Written and performed by award winning actress Beverly Sanders.
Directed by Asaad Kelada.
A touching, tender, and humorous journey about life, liberty, and the pursuit of babies thru the road of adoption. A celebration of family and the human spirit
Beverly Sanders is one of the most familiar faces in America, playing Rayett, the incompetent waitress on The Mary Tyler Moore Show, and, ironically, as Easy Susie, Rhoda's always pregnant friend. Recently she has been seen in Baywatch, Grace Under Fire, Delta, Kirk and The Faculty. Last year she co-starred with Mary Tyler Moore and Edward Asner in Payback, an ABC_TV Movie-of-the-Week. Her new movie One Dozen, written and directed by Lloyd Schwartz, is yet to be released. Her appearances in over 300 commercials include the current Clairol, Kelloggs, and she is best remembered as Louise, the Arm & Hammer Baking Soda spokesperson for ten years.She appeared regularly on the classic series Father Knows Best with Robert Young and Jane Wyatt, and costarred on Lotsa Luck opposite Dom DeLuise. Other television credits include recurring appearances on One Day at a Time with Bonnie Franklin, and featured roles on CPO Sharkey, Night Court and St. Elsewhere among many more!
REVIEWS
"It's a small, specific, intensely personal story, told with humor and wrenching candor..frankly hilarious, sometime wrenching..in the end she triumphs!" - L.A. Times
"During the course of this play the veteran actress is serious, funny, sad and sometimes outrageous." - Entertainment Today
"A Master of her stage, she engages the audience from the first moment and doesn't stop for the whole performance. From laughs to tears..you'll feel it all." - L.A. Drama Critics Circle
AWARDS
Best Production of a One-Person Show