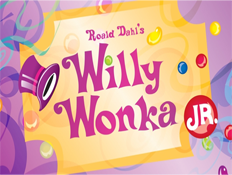 June-July 2017
Roald Dahl's Willy Wonka JR.
Presented by Young Stars Theatre.
Charlie Bucket's visit to Willy Wonka's mysterious chocolate factory lights up the stage in this captivating adaptation of Roald Dahl's fantastical tale. Featuring the enchanting songs from the 1971 film starring Gene Wilder in addition to a host of fun new songs, Roald Dahl's Willy Wonka JR. is a scrumdidilyumptious musical guaranteed to delight everyone's sweet tooth!